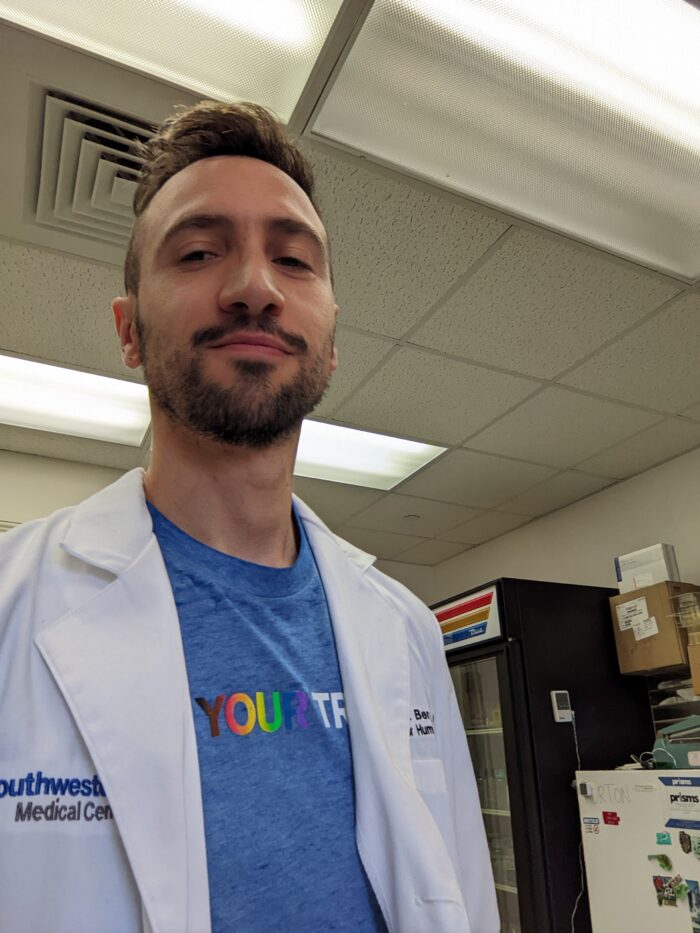 Mat Berger
He/Him
I am gay and I am a molecular geneticist.//
I am currently a research scientist in the department of molecular genetics at the University of Texas, Southwestern Medical Center in Dallas. I did my PhD on the metabolism of cholesterol studying the trans-intestinal cholesterol excretion (TICE) and a small protein that regulates plasma cholesterol named PCSK9. For my postdoctoral fellowship, I continued to build on my previous training by investigating the role of PCSK9 and its function in sepsis as well as the study of cholesterol metabolism in nonalcoholic fatty liver disease (NAFLD).
Today, I'm using my knowledge and skills (I'm an expert in micro-surgery now!) to pursue multidisciplinary projects and study fatty liver disease to hopefully find a treatment for this chronic condition affecting about one quarter of our population in the US.
As an openly gay scientist, I can see how representation is important in medical research. This year I was holding the UT Southwestern banner for our first participation at a Pride parade ever! Way to go!
Outside of science, I love rock climbing, surfing, national parks and fun socks!
Don't hesitate to reach out on my socials, I'd love to connect with some cool co-queer scientists!